We believe in low instructor to student ratios (max 4:1) to ensure that you get the best possible experience.
Sea Saba offers professional dive training programs for all ages and all levels from first time beginners to more experienced or those who want to enhance specific skills.
​
Consistent with Sea Saba's dedication to quality, any course will be conducted with a dedicated instructor (both above and below) who will work with you to ensure you have a positive, thorough learning experience both academically and in the water. Whether you want to hone your buoyancy, increase your comfort level, dive safer, have a greater appreciation for the environment, or all of the above, we can get you there!

Many of our clients return to Saba with a friend or family member knowing that Sea Saba is a dive center that takes diving seriously but always makes it fun.
The Sea Saba Difference...
Sea Saba is a PADI 5-Star Dive Resort as well as a recipient of the PADI Green Star award and founders of the Saba Eco Immersion specialty. The 5-Star status means Sea Saba is recognized by PADI (Professional Association of Diving Instructors) as a progressive PADI Dive Center that offer the full range of PADI scuba programs, have a good equipment selection and offer dive activities that promote aquatic environmental responsibility. PADI Five Star Dive Resorts are committed to providing quality diver training and continuing education programs that include dive experiences and environmental awareness. These dive businesses often cater to the traveling diver, but are also active in the local community promoting the benefits of recreational scuba diving and snorkeling.
Before you consider diving...
If you maintain your health and follow the basic rules, scuba diving is a sport you can enjoy into your 80's! However, diving has inherent risks that may not be a concern while participating in other sports. Dive training whether for one-day courses, specialties, or professional training requires the student to complete a medical statement and liability release.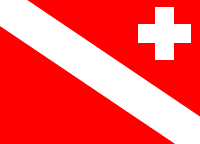 Sea Saba follows the recommendations of PADI and D.A.N. Please click here to review the medical questionnaire before coming to Saba. If you answer yes to a question, you will require a physician's clearance before training begins. Any medical concerns that might affect your ability to learn to dive or to dive safely should be addressed before you travel. With your safety as our #1 concern, we have the right to refuse you to dive with us should we be made aware of any medical concern at any point during your stay. D.A.N. offers free insurance while you are learning to dive. You can register yourself online prior to arrival: www.danismybuddy.com.
TDI is the leader in technical diving and has been since 1994. tdi offers a wide choice of programs available to continue your technical dive training.